TREATMENT OPTIONS

Dependent on the patient's individual situation, the treatment of CUP may pursue diferent goals. Treatment may be applied in order to:
eliminate cancer cells from the body
shrink the tumour
reduce or slow down tumour growth
relieve the patient of symptoms (see "The importance of supportive care and palliative care").
… or a combination of the above.
GOOD TO KNOW
Cancer treatment often does not only affect the cancer tissue but your whole body. Before treatment starts, it may be helpful to discuss with your doctor what aspects to consider for your general health and coping. Younger patients may think about the influence on fertility and the desire to have children. Other topics to think about may be nutrition, exercise and psychological support.
CUP TREATMENT POSSIBILITIES
Surgery, radiotherapy and chemotherapy are established, effective and commonly used therapies for a broad range of cancer types. These and other treatment options may be applicable for treating CUP. In contrast to other cancer types, for CUP, there is no limiting sequence in which treatment needs to be implemented. The doctor will choose the most appropriate treatment options according to the patient's individual situation.
Surgery may be an option for CUP patients.1
Radiotherapy is the use of high-energy rays to control cancer.2 It is a very common cancer treatment worldwide. The use of radiation will also harm healthy cells in the area of exposure.
Doctors may suggest a course of chemotherapy instead of, or in combination with other therapies. Chemotherapies are drugs designed to attack fast-growing cells, such as cancer cells. Normal body cells are also harmed by chemotherapy.3
Immunotherapy activates or reactivates the patient's immune system, thereby helping this system to fight the cancer.4 There are different options for reactivating/activating the immune system, e.g. by drugs, vaccines or cell transfers.
Targeted therapy uses drugs designed to affect ("target") only cancer cells without harming normal cells.5
Besides relying on standard cancer treatments in routine clinical care, there may also be the option to participate in a clinical study. A clinical study investigates if a new treatment option is more successful than standard treatment – in a highly regulated setting. See more in the next section.
TEAMWORK FOR THE PATIENT
Since cancer is a complex disease, it is becoming increasingly common for doctors from different disciplines to work together to find the most beneficial and appropriate treatment for the patient. One example of such teamwork is the so-called molecular tumour board (MTB).6-9 It may include your doctor, oncologists, bioinformaticians, molecular biologists, pathologists, and geneticists.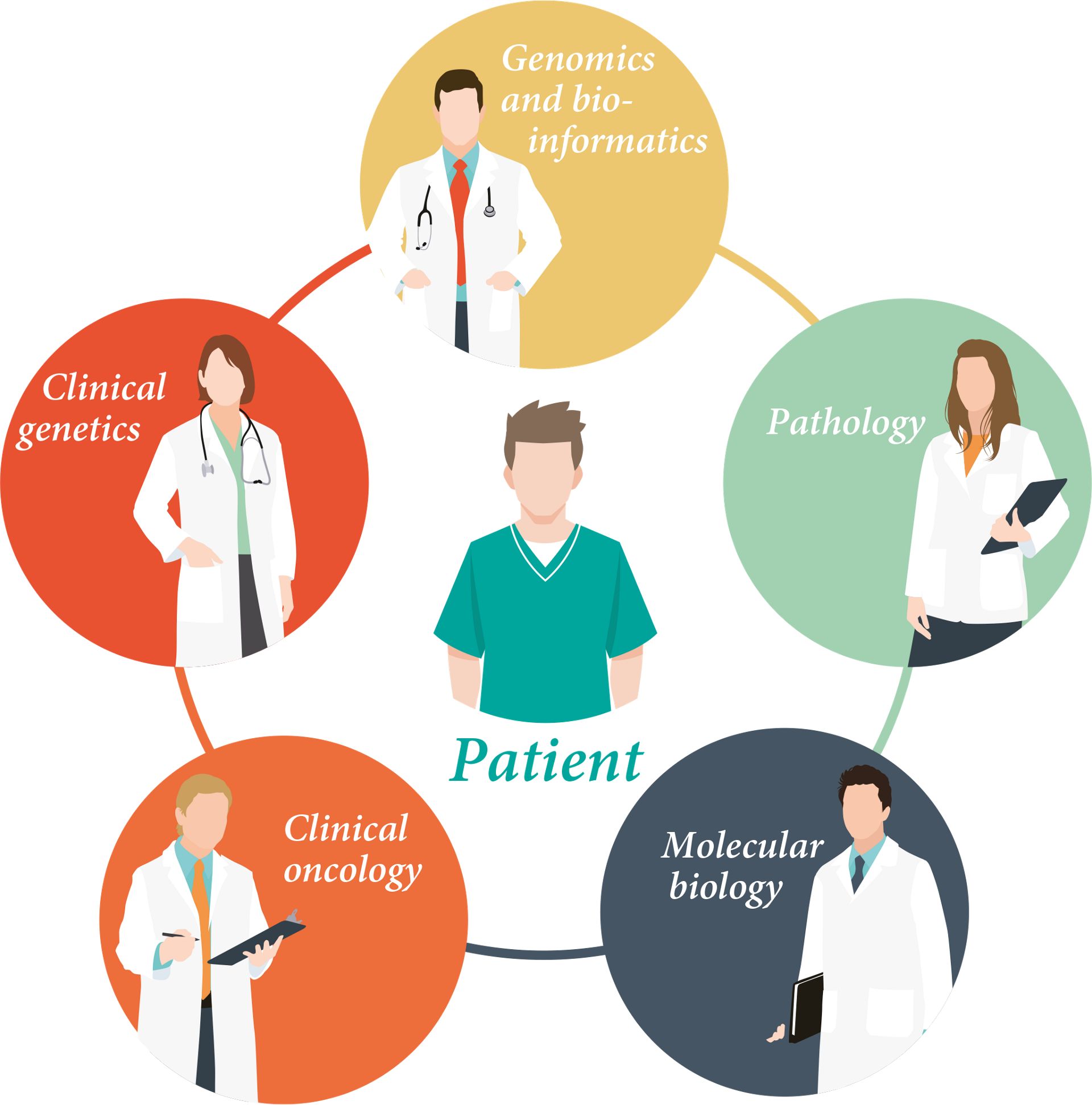 THE IMPORTANCE OF SUPPORTIVE AND PALLIATIVE CARE
Supportive care and palliative care both aim to relieve patients with a serious illness from their symptoms and the stress of their disease. Although both types of care share several aspects – the terms are even used interchangeably – they still differ in some points.10,11
Supportive care ...
focuses on patients treated for cancer and is part of the medical field of oncology
enables and supports cancer treatment, helps the cancer patient to cope with the treatment
supports rehabilitation and quality of life when patients are in good condition
Palliative care ...
is for all patients with a serious life-threatening disease
is a specialised medical field with specially trained health personnel
focuses on symptom control and quality of life, the prognosis of the illness is often not known
Both types of care ...
may be provided at any point of the cancer care continuum
address the person as a whole, not only the patient's disease
address physical, emotional and social aspects of the patient's journey
take care of the needs of the patient's caregivers, friends and families
still allow the patient to receive systemic treatment, like chemotherapy, when considered appropriate for the individual situation
In contrast to supportive and palliative care, hospice care begins when limited life expectancy is known and the focus of care is symptom control and quality of life.
PROGNOSIS
If you or a loved one have been diagnosed with CUP you may have questions about the prognosis of this cancer. A prognosis is an informed estimate of the time course and the outcome of a disease. For all diseases, but especially with cancer, it is never possible to predict the exact outcome. Since every patient may have a different prognosis, it is best to discuss your individual case with your doctor.